VB Black Friday Bike Sale
Our Black Friday bike sale is here again for 2023 and it's bigger and better than ever! If you're in the market for a new bike, it is a great time to take a look at our mega offers below! And if you don't see anything you like – get in touch with us at the shop for more options.
If you don't already know, we are moving to a new site (up the road in Milford), and unfortunately can't take all of our current bikes. So it's a great opportunity for you to grab yourself a bargain and support your local bike shop at the same time!
…So welcome to our BLACK FRIDAY BIKE SALE!
IF SOMETHING YOU LIKE IS SOLD OR THE WRONG SIZE – GET IN TOUCH AND WE GET YOU ANOTHER ONE!
The prices you will see on this page are even better than the ones listed on our 'Bikes In Stock' page but please refer there for full specification and geometry.
We are also dedicated to offering PRICE MATCH where we can – just reach out to us regarding any of our stock bikes.
To enquire or book a viewing on any of the bikes on sale please contact us on:
Call – 01332 841950 📞
Email – info@velobavarian.co.uk 📧
Please see website for opening hours. Enquiries will be answered within 24 hours.
But be quick…Once they're gone, they're gone!
BLACK FRIDAY BIKE SALE – ROAD BIKES
This beautiful Basso is incredible value, at £4,999, let alone £3,499! A stunning bike, with high spec and full cable integration…and that paint! 😍
One of the most comfortable aero bikes on the market. This cutting-edge BMC Timemachine is complete with the fully wireless SRAM Rival eTap AXS groupset and 50mm carbon wheels. It is the perfect bike for anyone wanting to do time trials/triathlons and have a super-fast road bike to use at the same time with not a cable in sight…and high spec finishing kit!
As above, the Timemachine is incredibly compliant for an aero bike, making it rideable for most roadies! With the most reliable groupset on the market – Shimano Ultegra Di2 – this bike is a steal at £3,000 off…and FAST AF!
One of the steals of the day. The same carbon raced on by the World Tour teams. Super-light, super-clean, super visible…we love the colour – it matches the VB kit perfectly!😉 You could literally break this for parts and make money….but we didn't tell you that. (Image for display purposes only).
What can we say, carbon road bike with Shimano 105 for under £1,500…if you're in the market for a less expensive option (and tall), then you'd be crazy to miss this gem in our BMC sale.
Rare bike. Not sure why we are discounting it, but we have more coming so make the most of it at this crazy price! Not many in the country, and none as cheap as this. Read our 10/10 review of the SuperSix HM here.
We love this bike. We have decided to price match online retailers on this one…but they don't offer anywhere near the level of customer service we do! Just enquire to find out how we can help you with everything from bike fit, to servicing.
We are committed to stocking female-friendly sizes and the 48cm is one of the smallest sizes available. A fantastic all-round bike, capable of racing due to it's sharp handling and responsiveness as well as being an awesome winter bike due to mudguard compatibility. The best aluminium bike on the market – I have one and I love it! (Luke)
Winter is here…and this really is the perfect fast, winter bike. As mentioned above, the CAAD also doubles up as a more than capable race bike and looks really stunning in this Smoke Black finish with Brushed Silver decals.
As above, the ultimate winter bike. This time complete with Shimano 105 Di2 semi-wireless groupset…bit of a weapon really!
Our Cannondale sale continues and wow. What a bike for £1,850 – a pure racing machine. Lightweight, and with aerodynamic features, the S6 EVO would make a fantastic all-round bike at an amazing price point. With a few minor upgrades to this spec, you would struggle to build a faster bike. One of the deals of the day for sure!
Super reliable and widely accepted amongst premium road brands and the number one E-Bike system, Mahle E-Bike Motion comes equipped on this carbon road bike. The rear hub motor and sleek downtube battery makes it hardly noticeable at all that this is an E-Bike. Beautifully engineered and at 12kg one of the lightest of it's kind on the market.
Endurance bike of the year winner. 35mm tyre clearance. Mudguard compatibility…and surprisingly light! The new 2023 Synapse is more than capable of being a fantastic, comfortable road bike or a light gravel bike! Either way, it's the perfect bike for long days out across more than one surface type.
Winter bike extraordinaire. Light gravel bike. Bike-packing dream. This bike can do it all. Comes with built-in lights which have been cleverly integrated to keep weight down, and practicality high.
As above, the Synapse really is the ultimate endurance bike. Having won multiple awards, this super-practical, incredibly comfy road bike is an absolute dream to ride and is impressively light and responsive when it needs to be! The top bike in our Synapse sale!
This really is the hidden gem in our Cannondale sale. Incredible value full carbon road bike with Ultegra and hidden mudguard mounts. I loved this bike, regret selling it and rode over 10,000km on mine – read the review here (Luke). Perfect 'do-it-all' bike.
Endurance geometry, 35mm tyre clearance, mudguard capabilty, carbon forks and Shimano 105 groupset for £675. Would make someone a brilliant first road bike or a winter bike capable of doing some light gravel!
The now discontinued Prince is the only representative in our Pinarello sale. However, with the latest Ultegra Di2 groupset, full cockpit/cable integration – it is still one of the most eye-catching bikes in our shop. This will get snapped up quick. Other sizes are available! Image for display purposes only.
BLACK FRIDAY BIKE SALE – GRAVEL BIKES
WOW. What a deal this is! We have pre sold loads of these beautiful bikes at this price and have just 55cm remaining in both Black and Champagne. The Grevil F is a serious gravel bike for a serious rider – without the crazy pricetag. Limited sizes available on request!

Love love LOVE this bike. Men and women alike flock to it in the shop and with the lastest SRAM Apex wireless groupset and a wicked paint job it's easy to see why…other sizes available.
Love or hate this colour, (I quite like it, Matt doesn't)…it is the essence of gravel. Can you imagine this Cinamon Topstone with a Brooks saddle and some stylish leather bags…now that's how to ride off-road in proper, British fashion.
£650…£650…make someone's Christmas or just treat yourself. We have TWO mediums left but be quick on this one!
Talking of Quick…hydraulic disc brakes and 105 groupset make this bike a super-premium hybrid bike. Perfect for commuting, light trails or just getting your cardio in. The Quick Disc 1 is a fantastic option for anyone who still wants a premium bike, but without the drop bars. Great spec and value.
PERFECT CHRISTMAS PRESENT! Just the 21″ (large) left. Terrific bike for £299. Growing kids? Christmas sorted. Lockout suspension is great, premium feature on a lower priced bike!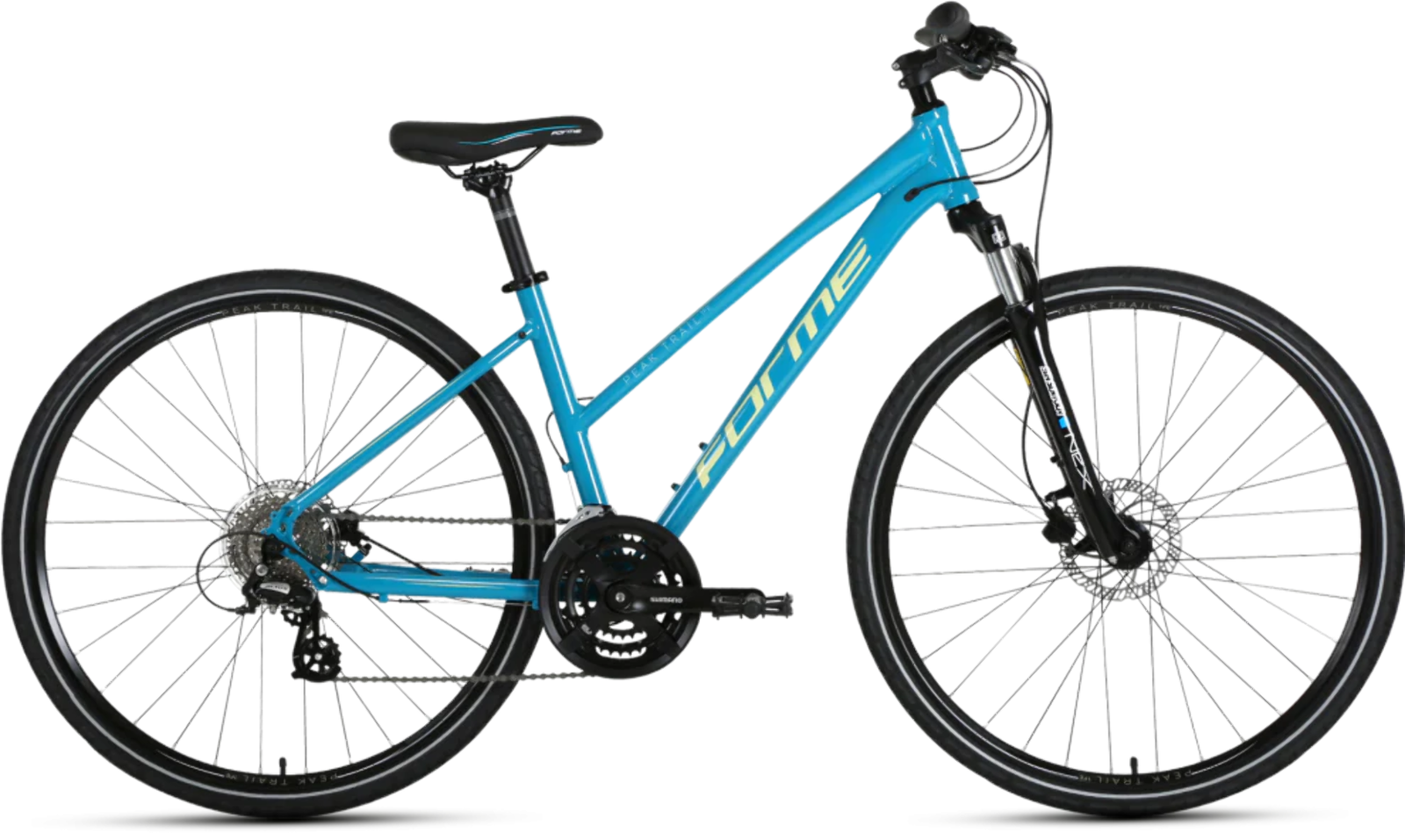 FORME PEAK TRAIL 1 LOW WOMEN'S HYBRID 17″ (SMALL) – RRP £525 – NOW £299 (OVER 40% OFF)
Perfect, small hybrid bike with a lower top tube for easy access. Nip about, take the kids out or go full gas – lockout suspension means it can go wherever you want it to.
BLACK FRIDAY BIKE SALE – KIDS BIKES

Premium kids bikes brand Prevelo are pioneers in building the safest, most confidence inspiring bikes for children. You can read more about them here. We are huge fans of their work!
As above – the best bike you can buy your child this year for Christmas! Prevelo have set the new standard for kids bikes.
Please feel free to call with any questions and we hope to see you soon!
Team VB
#YourLocalBikeShop